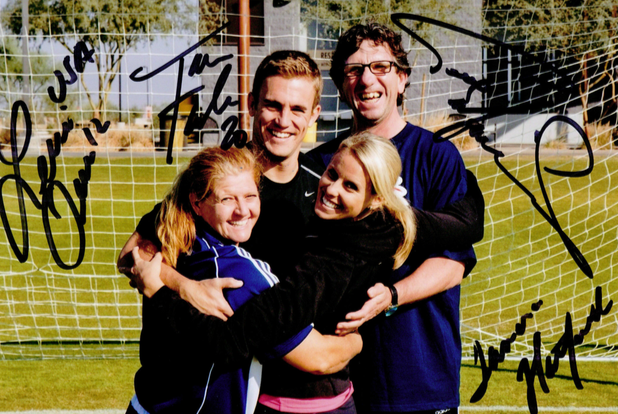 ASA's Tamera Hatfield with Taylor Twellman, Leslie Johnson and Paul Mariner.
Paul Mariner is one of the top center forwards in English soccer history, having led the England attack at the 1982 FIFA World Cup as well as holding the England record for goal scoring in consecutive games. Mariner was a hero at Ipswitch Town from 1976-84, winning the FA Cup and the UEFA Cup, before going on to star for Arsenal and Portsmouth. He was most recently the head coach and technical director at Major League Soccer club Toronto FC. He has extensive experience as a youth and club soccer coach and is an engaging clinician.
Taylor Twellman of the New England Revolution is an American international soccer player who played professionally from 1999 to 2009. He is a six-time Major League Soccer All-Star, former league MVP and U.S. National Team star. He now works in the media as a soccer television commentator. Twellman instructed players on all aspects of forward play at the Phoenix camp.
Leslie Osborne is a very recognizable and accomplished U.S. Women's National Team, World Cup star and has 59 caps for the U.S. Team. A three-time, First-Team All-American at Santa Clara University, she helped lead Santa Clara to the 2001 NCAA national championship. Osborne has coached at the college and elite club levels and is excellent with young players.
Coach Tamera